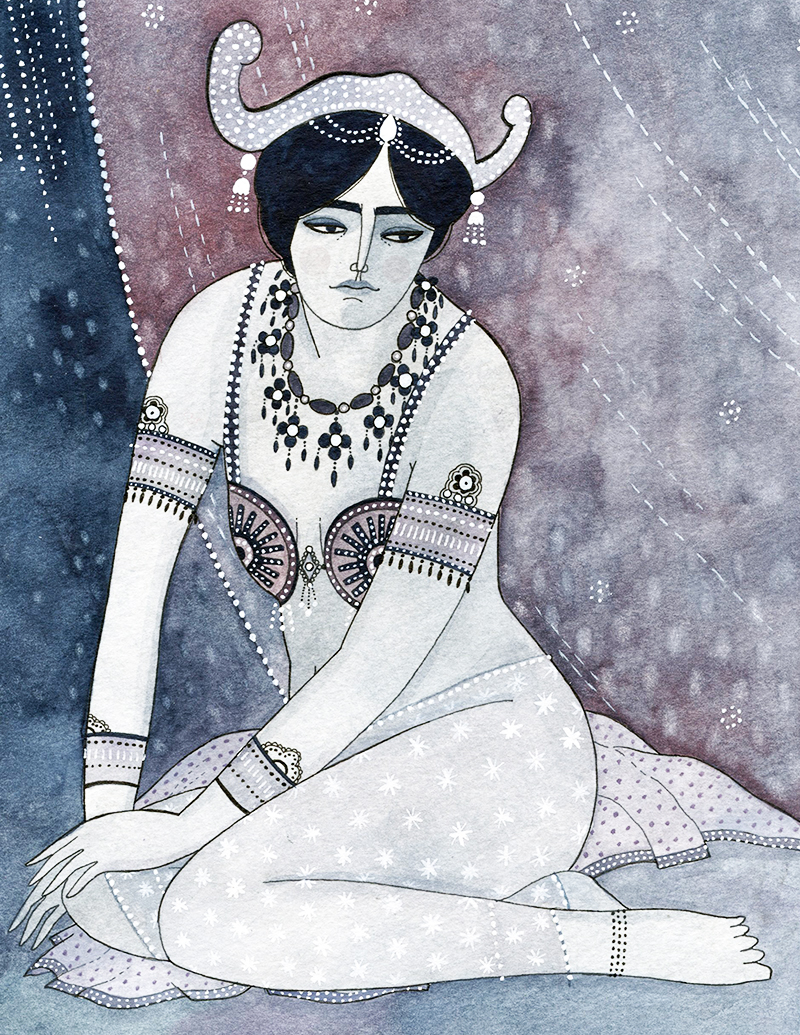 Somewhere between fact and fiction lies the mysterious and captivating Dutch woman the world has obsessed over for more than a century: Margaretha Zelle, more commonly known as Mata Hari. Almost a hundred years after her tragic death by firing squad, her life story continues to hold us totally transfixed. Mata Hari's life was a string of strange twists and tragedies. It was a sad sort of fairy tale. Pretty in ink, perhaps it might have made a lovely letter, a quaint story, but a very sad reality. And it's a life we'd like to share with you here, beautifully illustrated by artist Yelena Brykenskova, exclusively for Lone Wolf  (originally appeared in issue #4).
.   .   .   .
Life As Margaretha Zelle
Margaretha's father was a bankrupt business man who abandoned his family. Heart-broken, her mother died two years later. Scared and suddenly alone, the future Mata Hari hastily replied to a newspaper advertisement posted by Dutch Naval Officer, Rudolf Macleod, who was seeking a wife. In two short years she had lost her family, married a complete stranger, and moved half-way across the world to the Dutch East Indies where Rudolf was stationed, leaving behind everything she had known in life.
But Rudolf turned out to be a brutal man; red-faced, masochistic, permanently drunk and inclined to spend all of his time with a concubine instead of his young wife. It was not the answer she may have hoped for, and the exotic escape quickly turned tragic. Rudolf was so disliked by the locals that they, hell bent on revenge, poisoned his and Mata Hari's two children. Because their daughter was still breastfed, she lived. However, their son Norman was not as lucky. As she cradled her son's lifeless body in her arms, Margaretha knew her marriage was over. In an act that was part bravery and part necessity, she sought a divorce. But the law did not take kindly to women who sought independence from their husbands, malicious, abusive or otherwise.  Margaretha was not only denied custody, Rudolf forbid all contact between daughter and mother. None of the letters Margaretha wrote her made it into the child's hands. Margaretha was left without a husband, money, education, parents, or children; she was stripped of her identity.
.   .   .   .
The Birth of Mata Hari
Brushing the dirt from her dress, and painting a sad smile on her face she gathered her things and sailed to Paris. In a move that underlines Margaretha's resilience, out of the ashes of death and grief she created a persona that would soon be immortalized in the history books: She became Mata Hari, which in Indonesian means "light of the day." She changed her hair and she changed her name. She found strength in an entirely new identity.
Out of the depths of despair she rose to unparalleled heights. Mata Hari became the world's first celebrity exotic dancer, a kind of Dita Von Teese of her day. She was sensational, alluring, and unconventionally desirable. People travelled from across the seas to see her. She wasn't beautiful, but she was fascinating. She wasn't perfect, but she was marvelous, and marvel at her they did. Though she never studied dance, she was able to draw on her five years in the orient, which made her act incredibly convincing.
For a brief but highly lucrative period, the stars aligned for Mata Hari. Oriental culture was extremely chic in Paris at the time, and Parisians were aching for her, and she grew more rich and famous by the day.
She created a world of fiction which gave her room to grow as a performer. She was no longer the poor and abandoned little Margaretha Zelle from the Netherlands, she was the great Mata Hari, daughter of a Dutch woman, and a Javanese Buddhist. Mata Hari's fame was unprecedented at the time. No woman in Europe had ever caused more scandal and drawn more attention. She reigned over the continent, and kept company with famous and distinguished men. She found peace very briefly during this time in her life, but tragedy would soon find her again. In the early 1900's she fell madly in love with Vadim Masloff, a Russian officer half her age. Unlike most of the company she kept, Vadim wasn't famous or well-connected. Mata Hari simply loved him. As story has it, she loved him as passionately and intensely as she performed, and another man never saw the kind of adoration that she showed Vadim. The bloom of youth was beginning to fade; Mata was aging. Now, there were lines around her eyes, and her posture sank. Her body still hinted of a beauty, but it was a reminder now rather than a fact. Very suddenly Vadim was sent back to war where he was wounded, losing vision in one eye. As he lay recovering in Vittel, Mata made arrangments to visit him in the war zone. During the process, she met Georges Ladoux whom later, it was revealed, had been a French double- agent responsible for organizing French counter-espionage.
.   .   .   .
The Birth of a Spy and the Death of a Legend: Mata Hari's Final Hour
Mata Hari's constant travels performing across borders throughout Europe, made officials particularly suspicious of her. They thought she was a spy. Getting to Vadim in Vittel was nearly an impossible task for the love sick Mata Hari. She was questioned thoroughly on her political position, but she defended herself time and again on her neutrality. What happens next is anyone's guess. Rumors fill the archives and fact blends so nicely with fiction that over the span of a century we are left with only speculations of what actually happened.
The story goes that she was asked to spy for France by Germany by those who'd questioned her motives, and that she should agree, her request to visit her lover Vadim would be approved. But espionage in Europe was punishable by death. It was a lucrative and life threatening career that may have proved attractive to a brave but desperate woman. Well into middle age, Mata had no means of making money anymore. In January of 1917 German radio messages to Berlin about a spy named H-21 was intercepted by French Intelligence, from the information these messages contained, the French discovered Mata Hari must have been H-21. On February 13, 1917, Mata Hari was arrested in her room at the Hotel Elysee Palace on the Champs Elysee.
Mata Hari was put on trial, and accused of spying for Germany and being indirectly responsible for the deaths of at least 50,000 soldiers. Secret ink was found in her hotel room, and in 1917, this was all the proof the French government needed to prove her guilty as a femme fatale spy. She wrote letters to the French Embassy defending her innocence. One in particular read, "My international connections are due of my work as a dancer, nothing else…because I really did not spy, it is terrible that I cannot defend myself." Yet no one, not even the men that loved her for years stepped up to her defense.
On October 15th, 1917 Mata Hari was killed by firing squad. No one knows precisely what happened that morning; how she wore her hair, whether her stockings were silk, whether she cried or smiled, or felt anything at all. I imagine her waking up without an appetite in her cell. I imagine her rubbing the aches and stiffness from her joints. I imagine Mata handing a few personal letters to her lawyer, talking to the priest, and being escorted to a car. I see Mata bravely stepping out onto the cobble stones with sturdy legs and a strong gaze before the rising morning sun and the firing squad that face her, straightening her back, preferring execution without a blindfold, and looking directly towards the barrels of the guns aiming at her breast. "I am ready." I can hear her say, and then a little louder, "I am ready." And as the shots rang out, she didn't crumble, she fell to her knees, and then to her side with the stoicism and strength that possessed her all of her life. And though her involvement in espionage remains a mystery, no one can doubt for a second that she was one of the most extraordinary and resilient women the world has ever seen.