What do you guys think of this brother and sister duo? For their Spring / Summer 2014 collection Nicholas and Christopher Kunz were inspired by  the spiritual and tribal roots of the Apache people. As the story goes, some crazy ancient smudge fans found within the Arizona mountains inspired the collection, which taps the brand's own nomadic (if urban) roots. In fact, the clothes themselves would be perfect for a modern nomad, and seem designed for the well-travelled life.
The models walked down the runway in a palette of sheer whites, antler and bone colored cotton trimmed with deerskin. Turquoise, the is the vibrant accent color used throughout the muted earthy toned collection pierced with deep midnight blacks.

Andy Lifschutz, an artisan drawing inspiration from natural surroundings, designed exclusive custom jewelry for the collection, using heavy metal to signify the strength of the warrior. Brass, bronze and silver cast from leather are in sequins with crystal rings, which exemplify purity and power. Textured cotton paired with suede is comparable to animal fur used as a woven and skin used for insulation.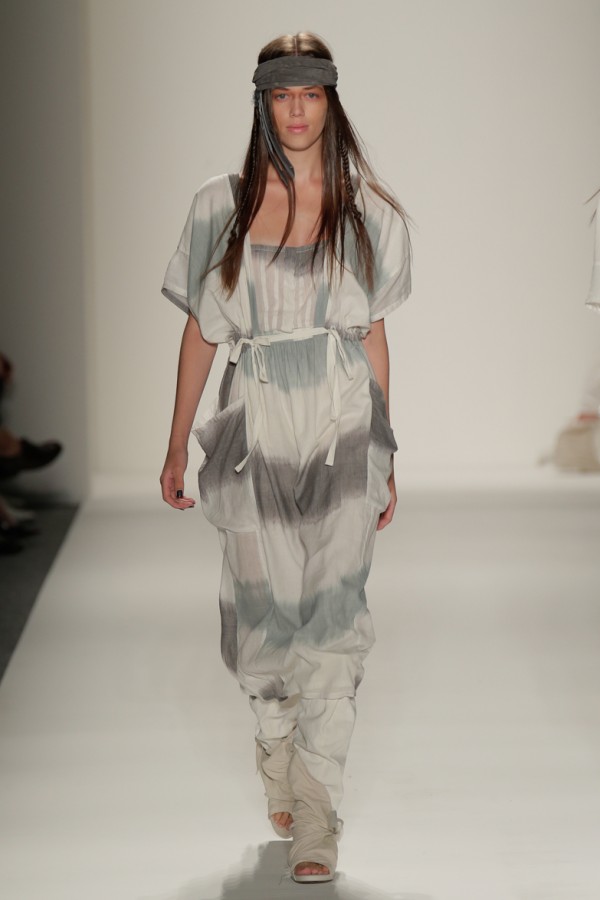 Like the Shamans, who were draped in a mixture of textures, the collection consists of an array of free flowing fabrics.  Matte gauze with shimmering lurex symbolically represents desert stones speckled with shining mica, while geods dance across printed viscose paired with reinvented linen and suede moccasins.  The silhouettes of the season call to spirit light dancers – they are magically free and playful.

The show featured hair by Jon Reyman for Aveda, make-up by Daniel Martin for NYX Cosmetics and nails by Sunshine Outing for Zoya.