How far would you go to get your work noticed? Here photographer Fabien Baron shoots a controversial editorial for Interview Magazine's November 2014 issue, with a line-up of recognizable faces, including Anja Rubik, Lily Donaldson, Andreea Diaconu, and Edita Vilkeviciute in an editorial that essentially looks like a crime scene.
The impeccably dressed models pose in what looks like a dirty, piss streaked crack den, wearing the likes of Prada, Versace and Marc Jacobs. Their bodies are splayed over the floor, and their limbs are twisted unnaturally across furniture. They look broken and left for dead. They look like something terrible just happened to them. Just by looking at the pictures it is unclear whether the models are meant to be drunk, asleep, dead or battered unconscious. It's obvious that the editors meant for you to interpret the women as "wasted," but without the title to give them context, the images taken on their own hint at a disturbing narrative. Why are these finely dressed women in a dirty dark dungeon? They don't look like the type of girls to drink PBR, so if they weren't drinking it, who was? And what exactly are they "wasted" on? This doesn't really look like a post-party situation, how did these women get here?
The renowned magazine got hit hard with criticism for glamorizing vulnerability (and possible violence against women?). Even the models involved in the shoot were criticized for going along for the ride. Model and The Telegraph writer Rebecca Pearson reported, "Didn't they wonder, as the grime was applied to their arms, what sort of pictures they were creating and whether it might be irresponsible? How the public might react?"
As soon as the images surfaced online the public was, very predictably, shocked and outraged. Which we're sure was the whole point of the pictures in the first place. Being shocking or controversial can be a lucrative business for those working in a creative industry. Ozzy bites the head off a bat, Marc Quinn creates a sculpture of himself using 4 liters of his own blood, Lady Gaga commissions artist Millie Brown to throw up on her over the course of her performance, Terry Richardson walks the line between fashion photographer and sexual predator, often blurring the distinction between art and pornography in his work. So yeah, getting weird and making people uncomfortable can translate to big bucks for a lot of artists. It gets you noticed fast. And for anyone who sets their sights on fame and fortune, simply getting noticed by the world is enough to push that envelope over the edge. In art the edge of acceptability is mostly self-defined and ambiguous, leaving the artist on morally neutral ground. Where do you draw the line between "controversial art" and creative acts that perpetuate possibly negative attitudes and behavior? Especially in a complex and already controversial industry like fashion, where commerce and art freely mingle with over idealization of youth and commodification of women's bodies.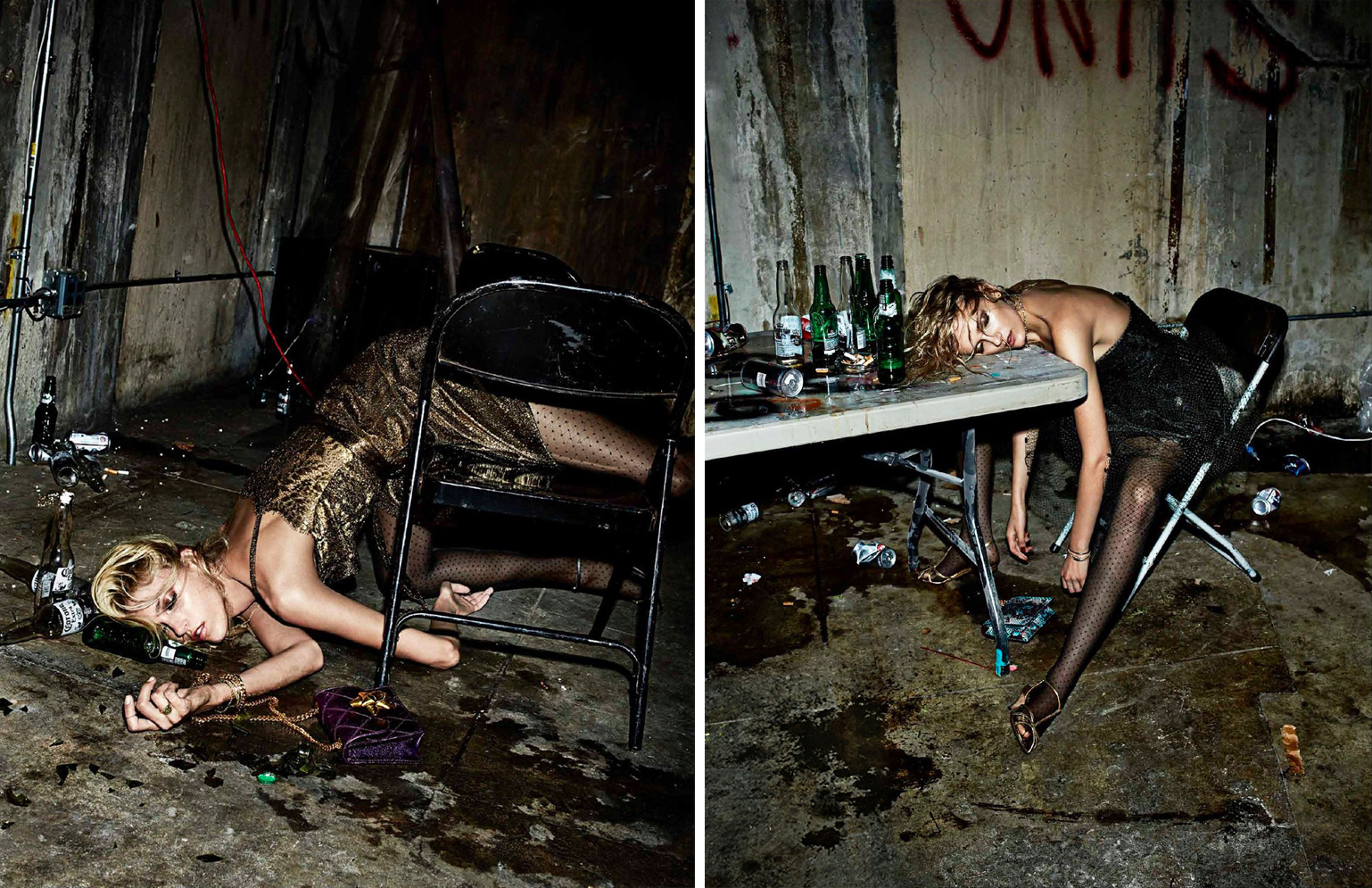 Patricia Phelan, associate professor of Media and Public Affairs at George Washington University was quoted in Yahoo Style, "These pictures look like they were created by people who hate women. The media industries are notoriously sexist –– in the contact they create as well as the work environments to which women are subjected. These pictures reinforce the message of our culture: human life is cheap, and women are merely props." Although there may be truth to this, it does not mean that the intentions of the creatives behind this shoot were malicious. It's unlikely that photographer Fabien Baron or wardrobe stylist Karl Templer who styled the photographs in question, that anyone involved with this editorial hate women. This editorial was probably just a PR decision made with full awareness of the shit storm that may ensue. They were probably counting on it.
There is no doubt that Interview Magazine's editorial is art. It gets in your head, makes you feel something and forces you to talk about it. That's the ultimate goal of all good art. But can art be dangerous when images like these start to seem normal and, really, not that shocking after all? And do artists (especially those who hold the power to sway public opinion) have a responsibility to the public? And how does our perception of the art produced change when it appears within the context of a fashion magazine which exists primarily to glamorize and sell products vs hanging on the walls of a museum? What do you think?