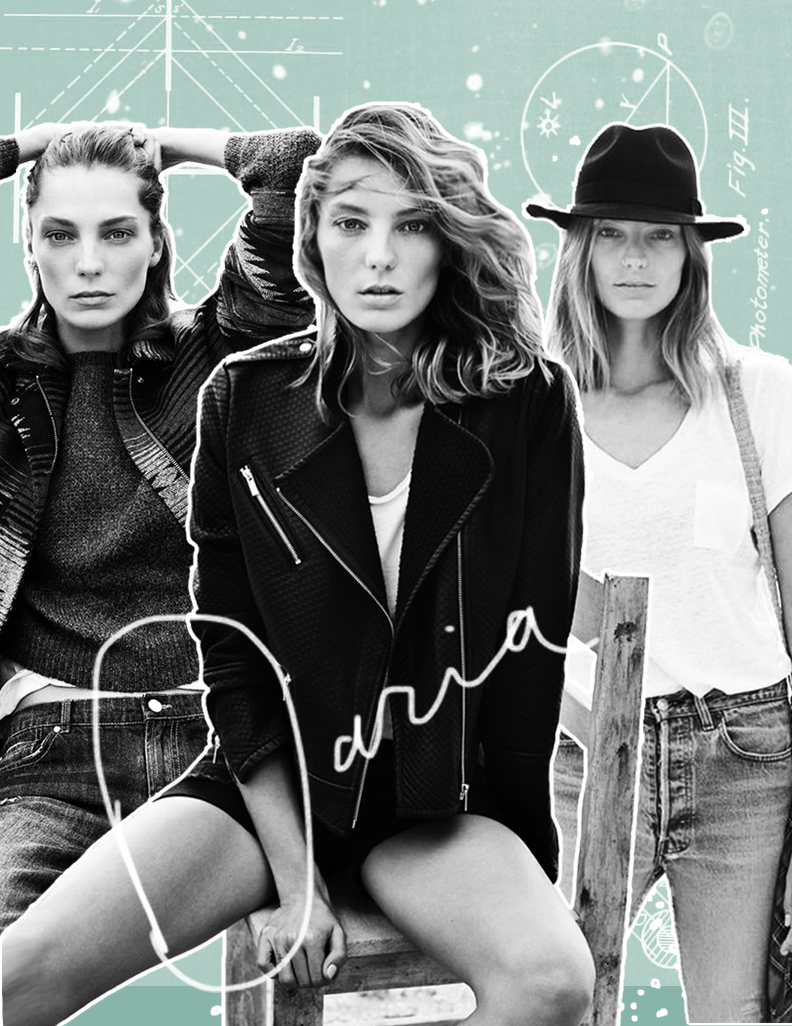 Models are kind of the movie stars of the fashion world, and despite the fact that they are supposed to disappear into whatever "look" they are portraying, some ladies just stand out. From the glamazons of the 60's and 70's, to the Supers of the 80's and 90's, to the social media personalities of today. We can't seem to help but idolize these (literal) faces of fashion. We all have our favs – the girls who personify what we love most about the theater that is the fashion industry. But one lady that probably tops everyone's list is Canadian beauty Daria Werbowy. In the early 2000s it was impossible to open a magazine without seeing Ms. Werbowy everywhere, and in 2009 she broke the industry's record for the most number of shows walked by a model in a single season. In case you need any more reasons why Daria needs to be your #1 crush (other than looking at her), I've got six for ya':
.   .   .   .
Daria has been in the fashion game a long time
Daria Werbowy was discovered at 14. This is not unusual in the modeling industry, in fact it's nearly commonplace. Longevity as a model is a lot harder to come by, and after 15 years, Daria Werbowy is showing no signs of slowing down. She is currently one of the highest paid models in the world, bringing home between $3 to $4 million every year. What's really interesting is that you can watch her develop over the years. Apparently when Helmut Newton met her as a young model, he said "Whatever happened to women?" At the time, Daria was only 20. Looking at some of her fashion magazine images now, she's would likely be one of his muses.
Her Instagram photos are awesome
Look, there are a lot of models on social media. Most of them give us sneak-peeks in to their personal lives or backstage access to fashion shoots and runway shows. It's super happy fun times for fashion enthusiasts. But not all who appear in beautiful pictures are great at taking beautiful pictures. Sure, I'm a fashion enthusiast. But first and foremost I am an image enthusiast, and out of all the models on Instagram, Daria Werbowy hands down has the best Instagram pictures. The woman has a wonderful eye for composition, and captures her travels over land and sea. When you're not getting coffee table book-quality landscapes, there are close-ups of critters in action (moth wings were made for Instagraming), and selfies that look like they came from published editorials. So perhaps it shouldn't be surprising that Daria Werbowy decided to officially take a step forward in pursuing a new career in photography. She even recently shot the fall 2014 campaign for the French label "Equipment" which featured a series of raw self-portraits. Check out Daria's Instagram account here.
Daria Werbowy is an adventurer
While she spends most of her time traveling the world, Daria's real passion is the water. Werbowy's love of sailing is so tied to her identity that Grace Coddington even made note of it in her memoir. This is not a "boats are nice, lets go out for a spin" love of sailing. Daria is hard-core. Like, sail across the Atlantic, hard-core. Like competing solo in the Volvo Ocean Race, hard-core. "Sailing is the closest I can get to nature – it's adrenaline, fear, a constant challenge and learning experience, an adventure into the unknown," explains Daria, "And of course there is nothing better than wearing the same T-shirt for days and not brushing my hair for weeks." It takes real commitment to the rush to put yourself out on the open water, but with an avid sailing-fan father, she grew up with it. Basically, Daria is no amateur, and you should not try this at home.
She's versatile
Obviously being versatile ranks high in the job description for models, and yet many models are known for a specific "look".  Daria Werbowy seems to be able to bend her beauty to the aesthetic of the photographer, somehow simultaneously blending in and standing out. Not many models can go from a glamorous Testino shoot to raw and captivating for Juergen Teller, and manage to be convincing in both of them. With all of the magazine covers Daria Werbowy has been scoring lately, and her numerous campaigns (most notably Lancome), she easily and frequently dominates the pages of magazines. When we don't immediately notice that the ethereal beauty in the makeup ads, the haunting woman selling us Celine, and the alien dressed in Balenciaga are all the same person as the Farrah Fawcett-haired cover model, then somebody is very, very good at her job.
Ms. Werbowy genuinely seems like a cool chick
There are the obvious signs of cool – her personal style of leather jackets and loose tee's, the fact that Daria isn't posing on red carpets, her general laid-back-ness in interviews. But what really sticks out is that she doesn't take anything for granted. In addition to giving back (she worked with Lancome to develop a small line of makeup, with the proceeds going to charity), Daria seems genuinely grateful for, and self aware of, just how lucky she is. 'The great thing about my Lancôme deal is I get to be not just a model, I get a voice,' she says in an interview with Telegraph UK. 'Sometimes I wish I didn't have one because I get really insecure about what I say. But at the end of the day, it is what it is, and I always try to speak the truth.'
Daria is an amazing artist
Although infamously shy about showing her work to the public, Daria has been obsessed with art since her early teens. In fact, it was kind of the reason she got into modeling to begin with. The money she made was meant to fund her art supplies. As a knobby kneed 14 year old, Daria's initial go at modeling didn't go as well as she planned. Werbowy was about to give up when her father convinced her to give it one more shot before heading off to art school. "I returned to New York, met my agent and the next day I had an exclusive deal with Prada," she says of that pivotal moment, "From then on it was all a bit of a blur." Though she has yet to have a solo show, she has donated her work to charity art galleries where the proceeds went to help at risk youth. And if that doesn't convince you that Daria is hands down one of the most humble, generous, inspiring not to mention beautiful models in the industry, nothing will.