There was rarely anything subtle or sophisticated about 80s fashion. It was a time when big and bigger were the general objective with both fashion and beauty, and it's this alone that tends to stand out in our cultural consciousness of the era. We like to think about those brilliant poodle skirts of the 50s, mod meets bohemian cool of the 60s, and disco perfection of the 70s. But the 80s? Most of us prefer to pretend it never happened. But despite all the hairspray and polyester, the 80s wasn't without its street fashion moments of brilliance. The below list proves that 80s street style wasn't as bad as our cultural memory makes it out to be. Even the intense pattern clashing and broad boxy shapes that were so in fashion during the 80s have their charm when styled in the right way.
80s Sequins That Didn't Suck
Proof that the 80s produced more than its fair share of memorable street style moments. We're so used to thinking of the 80s as being a time of garish fashion, this image captures the spirit of the time without all the circus.
Big and Bigger
Fashion bloggers may have perfected it in the early 2000s, but 80s fly girls invented layering. So pay your respects. Back then skirt lengths swung between two extremes – they were either super tiny or passed-the-knee modest. In either case, they were paired with sensible low heeled shoes (including sneakers) like the ones above.
Loud and Lovely 80s Neon
Have you ever wondered why everyone wore so much neon in the 80s? The 80s was the first time mainstream fashion started syphoning ideas from counter-culture. In this case, the first incarnation of punk rockers seen roaming the streets of Bristol. Punk rock was literally the most hardcore thing to ever have happened to music and fashion, and it's influence found its way to even the most banal consumer products. Photo by Joel Sternfeld.
Boxy But Feminine
80s shilhouettes tended to be boxy and masculine, but that didn't mean that a woman couldn't also look classy and feminine. Here the iconic Jacky O shows us how it's done with a baggy top and skirt cinched at the waist and paired with the era-required highway patrol sunglasses.
High Turtlenecks and Higher Waists
The 80s were a time where the rules of proportion didn't apply. It was unnecessary to balance a boxy top with something streamlined and slender on the bottom. Larger was always better. The image above is quintessentially 80s but clean and classic all at once. Photo by Anthony Hernandez.
Those Fuzzy Sweaters

They came in all shapes and sizes, whether polyester, angora or mohair, these fuzzy sweaters were a major 80s trend. You can get a sweater just like this here. Photo by Charles H. Traub.
The 80s Power Suit

This 80s signature trend never really left. Though the proportions have shrunk a bit, overall the power suit is still as relevant as ever. The image above was taken by Helmut Newton of the YSL muse and jewellery designer Amalia Vairelli wearing a classic brown power suit.
The 80s Love for Science Fiction
Nothing defines the 80s quite like the science fiction craze that exploded during the time. Everything from music videos to movies featured "futuristic" costumes that captured what people imagined the future would look like. It was the rise of Comic Con, fantasy and retro futurism. Nowhere is this as clear as in the way people dressed at the time.
Polyester Slipdress Princess
The 80s were all about polyester – the kind exclusively reserved today for dollar store halloween costumes. They came in all shapes and sizes, preferably with an awful polyester sheen like this, but it didn't always look so cheap and awful. Sometimes it was downright ethereal. Case in point, Bruce Davidson's image of subway travellers in New York.
80s Tomboys

The 80s really broke all the rules when it comes to proportions – knee-length skirts with flats? No problem. Barely-there minis with sky-high stilettos? Nothing to worry about. For the most part, it was a total disaster, but occasionally, when the stars aligned just so, it all worked out.
Oversized Coats
The 80s saw women fully entering the corporate work-force, and 80s fashion reflected that immense cultural shift. Power dressing for women became essential armor, and if you look closely, you'll see traces of that visual metaphor everywhere. Even Demi Moore's military inspired beret and super wide shouldered blazer are a subtle homage to strength.
Shearling Coats and Adidas

The classic Adidas Superstar shoes were everywhere in the 80s, often paired with the full Adidas getup that had you looking like you were training for the Olympics. It has to be said that there's nothing about this look that couldn't be pulled off today. Anyone looking for the perfect costume idea, you've found it. Photo by Jamel Shabazz.
Perfectly Preppy
The 80s pretty much defined the concept of preppy. Pastel polo shirts were worn with jewel-toned crew-neck sweaters strategically tied over the shoulders, and lest we forget, the ever present oversized aviator glasses. Here Princess Diana is a preppy vision to behold.
Pretty in Pink Bridesmaids

The 80s built its reputation on really bad bridesmaid dresses, but there's a certain charm in the tradition in making your bffs look like cupcakes for your amusement. There could be no greater show of love or loyalty than being willing to look ridiculous for your best friend. Whatever else can be said about how terrible 80s bridesmaid dresses were, we think these ladies look adorable. Photo by Thomas Hoepker.
Bright Billowing Dresses

The 80s were known for bright colors and oversized shapes, but this photo proves that this could be done in the most beaufiul way. The stranger pictured here by Charles H. Traub looks downright poetic in her billowing canary yellow dress.
Hot Shorts That Literally Couldn't Get Any Shorter or Hotter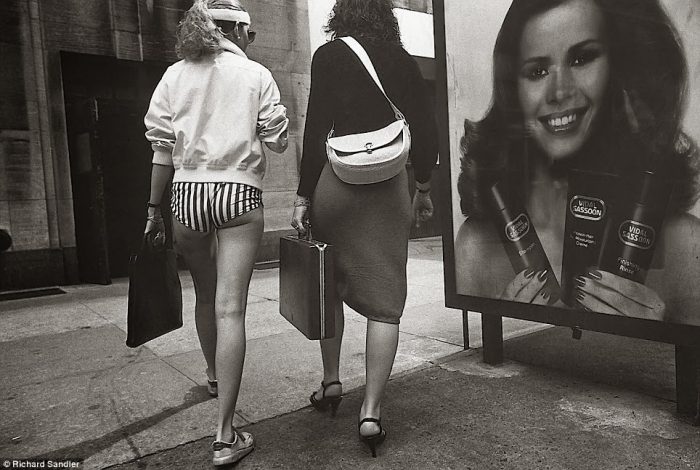 Short shorts entered mainstream culture in the 60s, but decade by decade they kept getting shorter and shorter. By the time the trend reached the 80s short shorts were basically outdoor underwear, with a preppy twist of course. Photo by Richard Sandler.
80s Punk Goth

You can't really talk about 80s fashion without at least mentioning the goths. The 80s gave birth to this trend, which lasted for two decades before fading away. Photo by Derek Ridgers.
Mixing Patterns and Textures
Kids in the 80s loved visual chaos, so not surprisingly pattern + texture clashing was the soup du jour every jour. Here we see artists Jean-Michel Basquiat and Rammellzee (arguably masters of visual chaos) looking quintessentially 80s. This kind of open-ness to pattern clashing and mixing textures was the corner stone of the totally eclectic 80s era.
80s Advanced Style

Ok, so maybe this has nothing to do with 80s fashion other than the fact that the photo was taking during the decade, but somehow, between the oversized coats and the analog disposable cameras, it feels like it belongs on this list. Photo by Charles H. Traub.